Huawei's 'FusionHome' solar inverter really wants your house to come alive
Huawei is really trying to wake up your house.
The FusionHome is built around the inverter, the Sun2000L (PDF brochure – image below, on left), that comes in kW sizes of 2.0, 3.0, 4.0, 4.6 and 5.0. The unit has an integrated energy storage interface, however, the inverter isn't required to have those batteries connected to run. This really is a killer feature for those who want solar now and would like to upgrade later as the home energy storage market wakes up.
The only other inverter sold that offers this, I think, is the SolarEdge StorEdge 7600 or, if you're patient, Enphase – in 2019. The SolarEdge solution does cost more money – additional hardware – at time of initial install, not sure if the Huawei requires additional hardware. SolarEdge's product is available worldwide, right now.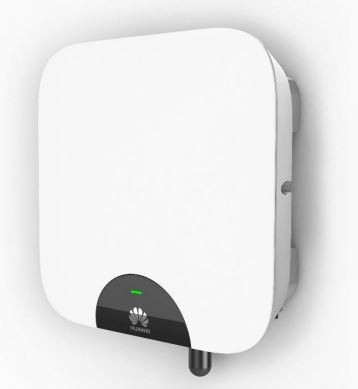 This inverter integrates solar panel level optimizer management (PDF brochure – the image on the bottom above). Panel level optimizers give you significant flexibility in laying out panels – no longer will one panel in a shadow lower the whole system's production. That means it's an intelligent financial decision to fill your roof with panels, even if a couple of panels run at less than optimal levels because you're already spending money on a lot of highly productive panels.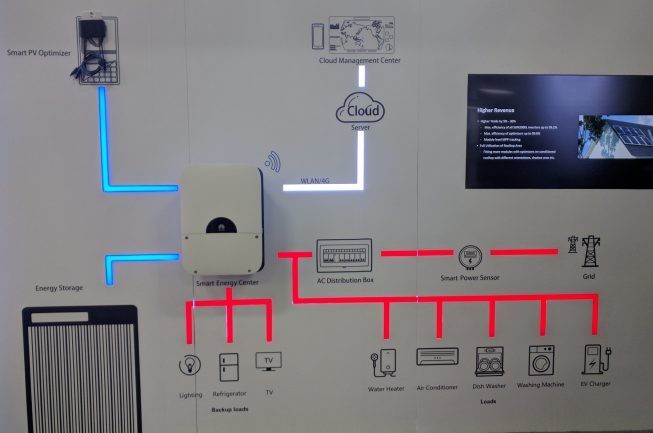 In the Featured Image at the top of the article, in the lower left portion of the image, you see a piece of hardware called the 'Smart Home Hub.' The hardware must be purchased through a third-party, although no third-parties were specified.
The purpose of that hardware is to connect with strategic home appliances. These appliances will be managed 'intelligently' in concert with your solar production and battery capacity. Intelligent management will combine variables such as the changing prices of electricity across the day, how much solar is being used, and how full your batteries are to help you decide what hardware to run in the house.
These Huawei units have a budding intelligence, much like what is necessary to run the Sonnen Community in Arizona or the 650MW Tesla distributed battery being built-in Australia.
We've all wanted a smart home since we saw the Jetsons. A home that has the ability to do things like cooking, cleaning and scheduling a great social life. Today – we do have a Roomba, and now our cars are getting smart – but most of our houses just kinda sit there.
It seems like energy (money) savings and environmental concerns are motivating an early phase of this smartening. It will be in regions whose power grids have variables that can be countered by a smart house – which lead to saving money – who invest first. These people will connect their washer, their TV, hot water, car charger, etc. directly to their FusionHome.