Australia's Solar and Energy Storage Market.
It is hardly surprising that Tesla is making such a big push into the Australian market. Nor that the world's other big vertically integrated company in this sector, China's BYD Auto (OTCPK:OTCPK:BYDDY), is doing the same. Distributed solar energy (that is, for residential usage) in the country is expected to triple this year to over 18,000 installations. Already at the start of the year over 6,500 households had solar and energy storage installed. Only 500 households had such systems installed as recently as 2015. The highest concentration of this was in the state of Western Australia, perhaps the sunniest state in a sunny country.
Solar power is calculated to cost an average of A$110 (US$85) per MWh. This compares to the historically dominant coal-powered cost of A$160 (US$124 million) per MWh. It is also more efficient. The traditional baseload of coal power stations are not efficient where demand is not consistent. This has led to an inefficient hub and spoke system. In time this will be replaced by distributed power from renewables and stored energy.
Solar is the cheapest form of large-scale power generation in the country. All the forecasts leave no doubt that the cost of solar power generation will only come down further. The cost gap will widen in a country where electricity tariffs are high. Electricity tariffs have increased by an average of 120% in the last decade. As my article in October last year detailed, 15% of Australia's 8.4 million households have solar panels installed. This year Tesla has had success in marketing its Powerwall residential batteries both to individual householders and to developers building new projects
On a commercial level, the country has a very substantial number of solar power plants planned, as illustrated below: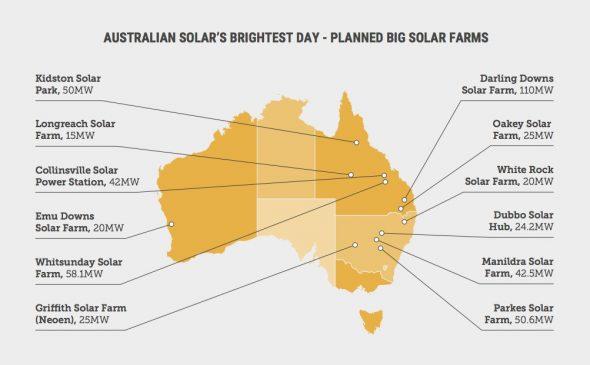 The substantial increases coming into effect of renewable energy power should lead inexorably to a boom in energy storage. However, it should be noted there is a potential negative in terms of possible pending legislation. Draft battery standard no.ASNZ5139 is proposing a ban on lithium-ion battery storage within residential homes and garages. The standard would insist on specially built enclosures for the purpose. This is still undergoing a consultative process and is actively being lobbied against by the Energy Storage Council. They point out that such legislation has not come into play in Europe where such storage is deemed safe and not a fire hazard. So this is a developing story to follow.